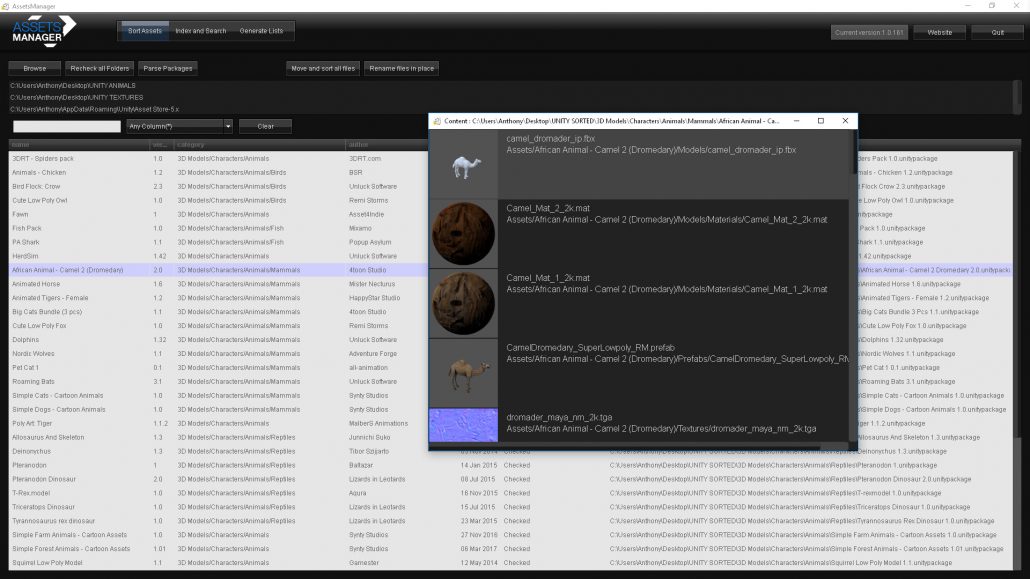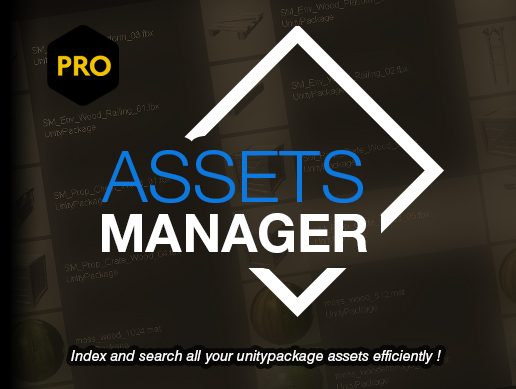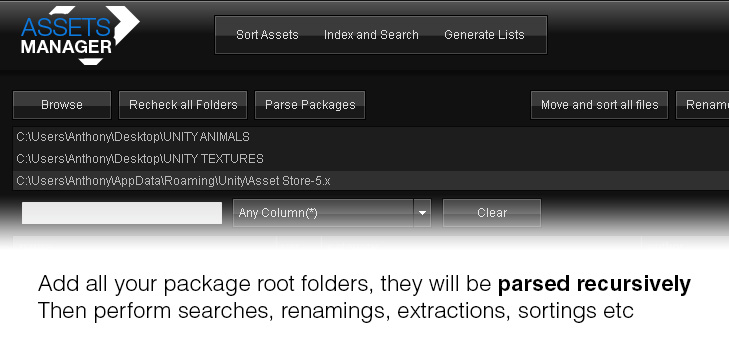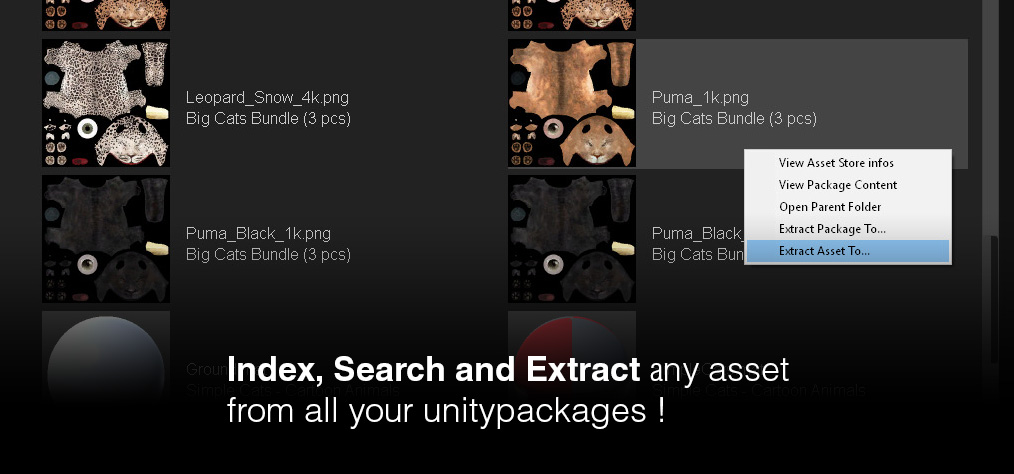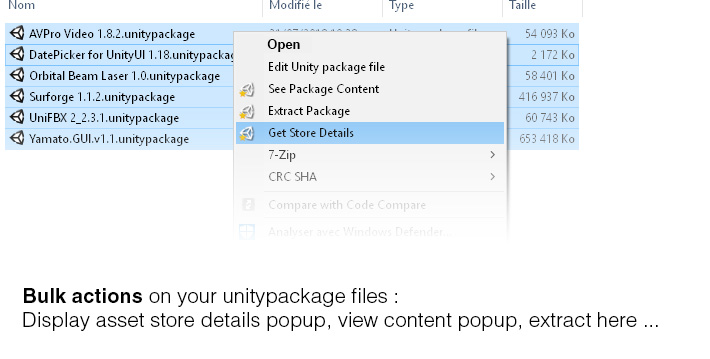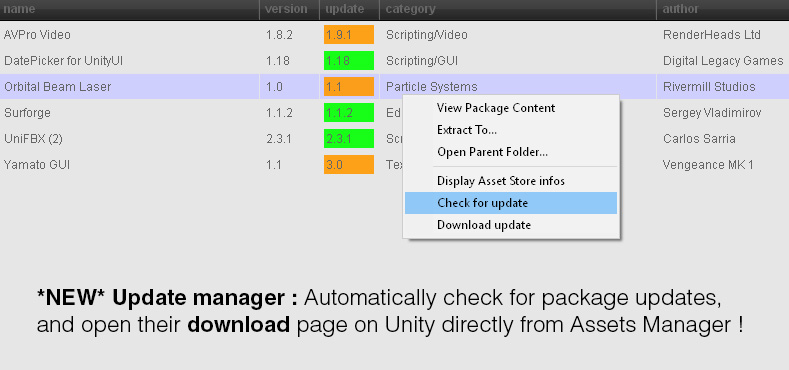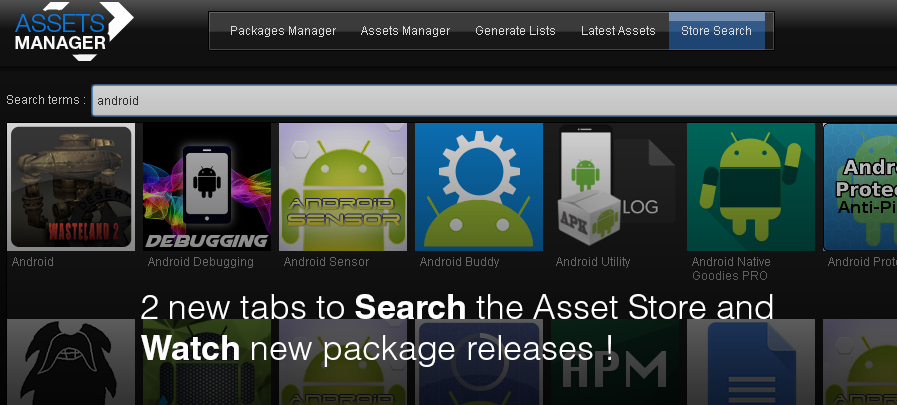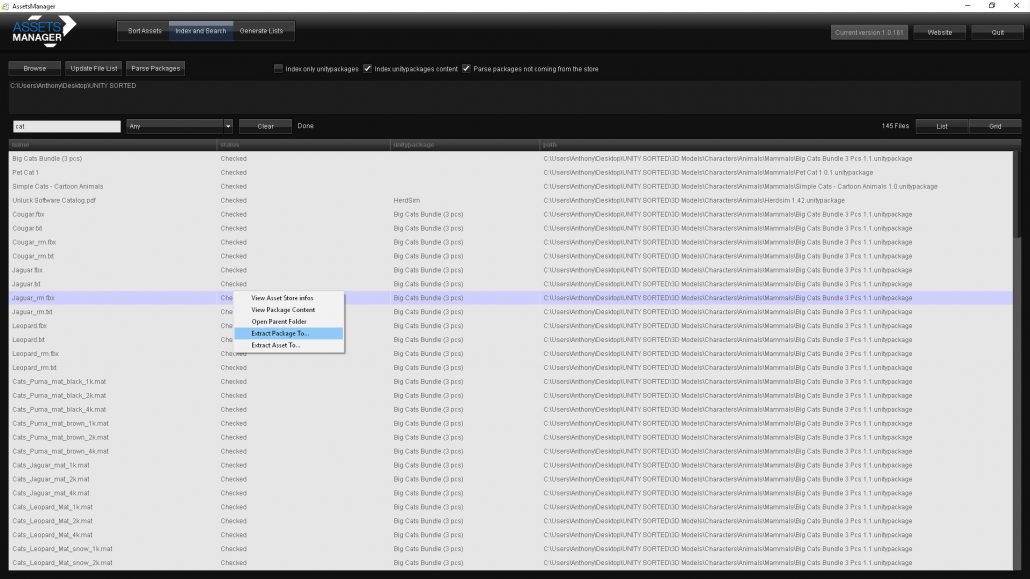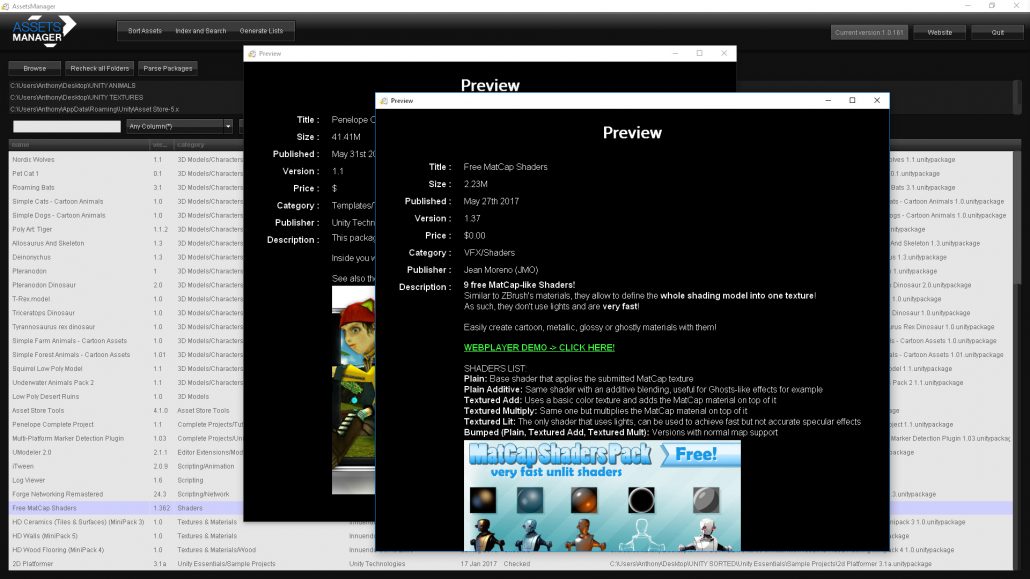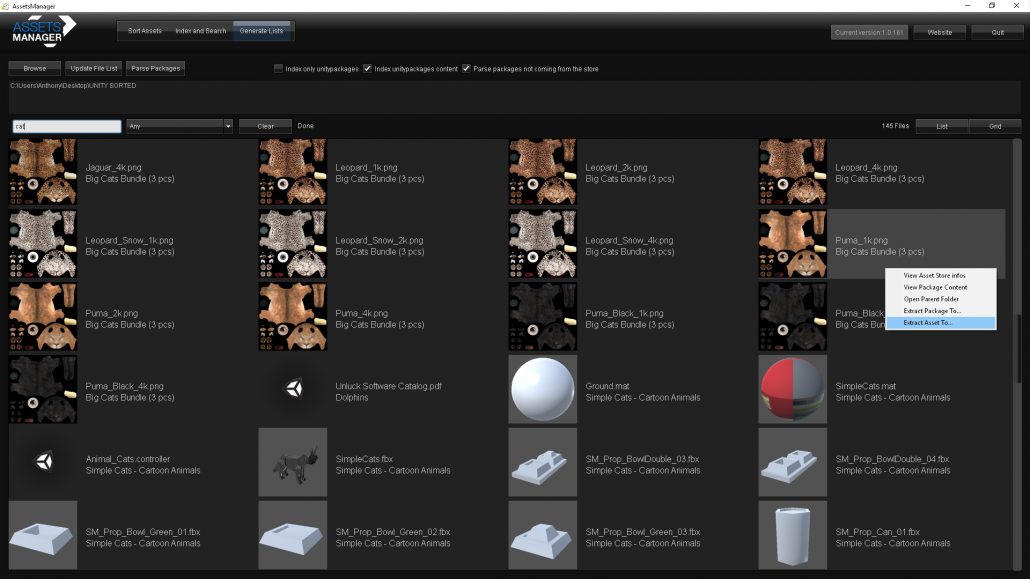 The ultimate tool to index, organize and search into your unitypackage assets !
FEATURES :
– Setup a searchable list of all your packages
– Parse packages to display their version number, author, categories, path etc. All fields are searchable using regular expressions.
– Automatically rename and/or organize packages into folders. Those folders are generated using the asset store categories.
– Extract any unitypackage as a zip archive (even packages stated as corrupted in the Unity Editor)
– Quickly check assets inside a package. (Displays a list of file with their asset thumbnail)
– Quickly check the asset store page of any package
– Windows explorer right click menu shortcuts (for windows users only)
– List, index and parse all your unitypackages. Display their assets as a grid of thumnails
– Search the index using regular expressions
– Extract any asset from any unitypackage
– Generate lists of packages
– PC and MAC support
– Tested with folders containing thousands of packages
– New : Version Checker for you packages ! Automatically check for updates and open the download page on the Unity Editor for you !
– New : Blazing fast package extractor and reader !
VERSION HISTORY
1.5.221 :
Now compatible with the new Asset Store update!
1.1.192 :
Critical fix for the Assets Manager Tab
1.1.190 :
Added confirmation prompts before moving and renaming operations
New AssetStore Search feature
New AssetStore « latest assets » tab
Added a button to automatically add the asset store download folder in the lists
Added a menu to open asset store page of the selected package in your browser
Removed the upper camel case formatting when renaming packages
1.1.187 :
New blazing fast package extractor and reader ! Around 30x faster
Added a search feature in the "Show Content" popup with regex support
Bug fixes and improvements
1.0.179 :
Version Checker : a new « update » column will show you the package version numbers currently available on the AssetStore. A right click menu will let you check for update and proceed to download the update.
New Windows right click menu on « .unitypackage » files to check for a package update
New « size » column to display packages size in MB
New « Settings » popup
Bug fixes and improvements
1.0.174 :
Fixed bugs in the macOS version : file list not persistent, app stuck in the dock
Added HiDPI support for larger screen resolutions
The Content Popup can now extract assets as well
Renamed the tabs to "Packages Manager" and "Assets Manager"
The Package Manager tab can now show an icon grid of packages
Unitypackages coming from the store are now showing their store icon
ROADMAP
Implement multi selection and bulk assets exporting inside the software
Create a shortcut to add the asset store download folder to folder lists
Add an Asset Store search feature